REAR SECTION SIDE FAIRING PANELS
For 2006-2012 Cascadia models. Rear section, measures 50.3″ long. With 4 amber M5 LED lites. Sold in pairs.
Product Information
Side fairing panels designed for 2006-2012 Cascadia models. These panels will not fit Evolution models. Located on the rear section of the chassis panel and are 50.3″ long. Each panel has (4) M5 amber LED. Sold in pairs. You must MEASURE the rear sections of the truck's chassis skirts. Lay a tape-measure along the flat side of the raised body line and measure from visible-seam to wheel-well (approximate within an inch). Hardware, lites and harnesses included.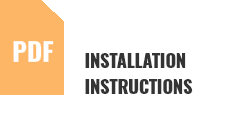 For ordering or pricing information, please visit your local dealership.