ELITE LOWER HOOD PANELS – PAINTABLE
For 2007+ Peterbilt 388 models. Sold in pairs. With formed radius edge. Paintable.
Product Information
These 3D lower hood panels are designed for 2007+ Peterbilt 388 models. Accentuate and cover the lower portion of the hood, directly behind the wheel well. Sold in pairs, each of the panels are blank (no logo) and feature a formed radius edge. Attaches with supplied brackets, hardware and silicone. To be used with paintable one-piece cab/cowls so that the radius matches as well as cover the rivets on the hood. For 2015+ 388 and 389 models, a change has taken place with the renaming of the former 388. Our catalog refers to a 388, which is the NEW 389 short hood. The 389's referred to in our catalog are the NEW 389 long hood. When ordering parts for a the new 389 short hood, please use parts listed for 388 models.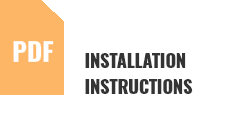 For ordering or pricing information, please visit your local dealership.