About Us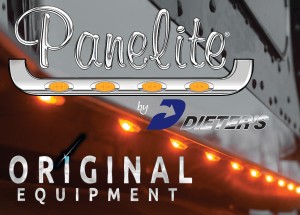 In 1976, Dieter Hohendorn recognized the need for custom accessories on highway tractors, and started designing/fabricating stainless steel accessory products for local owner/operators in a small shop located in rural Ontario Canada. It was at this time that "Dieter's" was born. As the demand grew, "Dieter's" moved to a larger facility in Waterloo Ontario. Soon, the truck manufacturers were looking to dress-up their models both in their after-market divisions, as well as their truck factories. By the late '90's, Dieter's was supplying all the truck OEM's with their dress-up products. Panelite opened for business in 1984, and quickly became one of the largest truck accessory manufacturers in North America. They also supplied the truck OE's with their after-market and production-line product, just as Dieter's had been doing years before.
Through a series of unfortunate events, Panelite became insolvent in 2010. Dieter's purchased the Panelite stainless steel product brand and has brought the line back to the market, starting with the more popular accessories. Panelite by Dieter's pledges to grow the line of accessories using the same high quality standards and materials. With several "Supplier of The Year" awards from OE manufacturers under its belt, Dieter's has grown to over 60,000+ ft² of space located in Cambridge Ontario, with 85+ employees on our team. Dieter's and Panelite by Dieter's has become the largest heavy truck accessory supplier in North America.
Accessible Customer Service Plan – Providing Goods and Services to People with Disabilities
Dieter's Metal Fabricating Ltd is committed to excellence in serving all customers including people with disabilities.
Assistive Devices
We will ensure that our staff is trained and familiar with various assistive devices that may be used by customers with disabilities while accessing our goods or services.
Communication
We will communicate with people with disabilities in ways that take into account their disability.
Service Animals
We welcome people with disabilities and their service animals. Service animals are allowed on the parts of our premises that are open to the public.
Support Persons
A person with a disability who is accompanied by a support person will be allowed to have that person accompany them on our premises.
Notice of Temporary Disruption
In the event of a planned or unexpected disruption to services or facilities for customers with disabilities Dieter's Metal Fabricating Ltd. will notify customers promptly. This clearly posted notice will include information about the reason for the disruption and its anticipated length of time. The notice will be placed at the front reception area and at the shipping and receiving area.
Feedback Process
Customers who wish to provide feedback on the way Dieter's Metal Fabricating Ltd. provides goods and services to people with disabilities can send us an email with the title "Disability Feedback". All feedback will be directed to the Human Resources Department. Customers can expect to hear back in 5 working days. Complaints will be addressed according to our organization's regular complaint management procedures.